Lamy 2000 Set - Black Amber Special Edition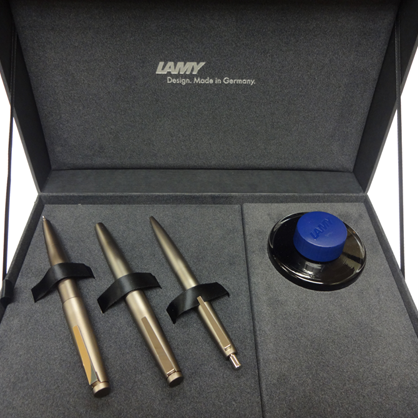 Lamy 2000 Set - Black Amber Special Edition
Regular price
RM4,980.00
RM4,980.00
Free Shipping within Malaysia (Orders RM 100 & above)
Gifting Ready (Includes Gift Box, Paper Bag, Message Card)
One-Time, One-Location FREE Laser Engraving Services
---
The LAMY 2000 has been writing design history since 1966. As a timeless classic it is still one of the most modern writing instruments today. Function alone determines form. With this design principle Lamy has won the hearts of many design enthusiasts throughout the world. And this all started with the LAMY 2000. When it made its first appearance in the shop windows in 1966, it was the first writing instrument of the modern era which did not seek to be a status symbol but simply an honest, high-precision tool for writing by hand. Made of modern materials; stainless steel and Macrolon.
In 1966, the 2000 was designed for Lamy by Gerd A. Müller (who may be most famous for his Braun electric shaver design), and reflected a revived postwar Bauhaus school centered in Ulm, Germany.
The all-metal Lamy 2000 M Black Amber set comes with a brushed surface and unique structure. Its characteristic colour is the result of an elaborate electroplating process whereby stainless steel and galvanic surface processing form a lasting combination. The high-quality finish has a pleasantly warm feel and, combined with the characteristic weight of the pen, creates a sensual writing experience.
The fountain pen has a piston operated filling system. It has a 14 ct gold nib, is platinum coated and hand polished. The Lamy 2000 M Black Amber 50th Anniversary Fountain pen is available as a stylish design piece in a sophisticated gift box, complete with traditional ink bottle.
Lamy is an independent family-owned enterprise which was established in 1930 by , former Parker employee, C. Josef Lamy in Heidelberg. The Lamy brand has existed since 1952 and proved its innovative prowess in the very first year with the completely novel Lamy 27 fountain pen series. And in 1966 the distinctive style of Lamy Design was born with the Lamy 2000.
Standard Order Processing & Delivery Timeline (within 🇲🇾)
🔹3-5 working days (Varies according to Location / Courier Speed / Holidays)
🔹Courier: DHL eCommerce
🔹Check your Email / SMS for Self-Pickup or Parcel Tracking Code
🔺REMARK: Engraving production occurs from Mon-Fri only

Self-Pickup / Urgent Delivery (Klang Valley)
🔹At checkout, select "Self-Collect" as the shipping method

🔹Once Order Ready, you can Self-Collect (OR) Send your Own Rider to Collect from Retail Store *AFTER receiving CONFIRMATION Email / SMS*  
Instant Engraving Services @ Retail Store 
🔹 
Urgent INSTANT Engraving Services Available (Ready On-The-Spot) on Selected Pens for Walk-In Purchases @ Retail Store (Add-On Cost). WhatsApp for more Info.
How to Order Online with Personalisation (Engraving) with Message Card (Watch VIDEO)
Whether you're a first-time buyer, a pen enthusiast, an experienced pen collector ­or a pen expert, we're committed to helping you to find the perfect pen.

1) FOUNTAIN PEN:
Wet Ink
Use Bottled Ink (with Converter) or use Ink Cartridge (Ink Tube)
Provides a Unique & Luxuriously Fluid Writing Experience
Favourite pen type for Collectors
Opening Mechanism: Uncap to Write
 Multiple Nib Size (EF/F/M/B) Options for Various Writing Tasks:
Signing (Nib  M (Medium) / B (Broad)
Normal Writing (Nib Size : EF (Extra Fine) /  F (Fine) / or M (Medium)
Cursive Writing (Nib Size: B (Broad) or Bigger Size Nib Oblique Writing (if Available)  
2) ROLLERBALL PEN:
Wet Ink (Refill)
Primarily for Signing & Premium writing experience
Opening Mechanism: Uncap to Write 
 3) BALLPOINT PEN:
Dry Ink (Refill), 
Primarily for Day-to-day Writing
Opening Mechanism: TWIST to Open (OR) CLICK to Open